BPO has relevance in the present business world like never been before. The pandemic has taught us lessons to take precautions against unexpected events. In fact, they can happen at any time in the future. So, a business firm must keep its operational functioning being intact at any cost. The Business Process Outsourcing industry evolved as the best solution to increase performance efficiency now expanded its concerns into meeting new challenges. What are they?
Let us see the trends in the outsourcing industry expected in 2022
1- The Emphasis on Quality of Work
As per the reports, 52% of businesses are concerned about a skill shortage in the BPO industry. As a result, a BPO company is concerned with improving the skills of their available employees to ensure the quality of work. With the increased demand for more products after a dilemma in the supply chain in the post-pandemic period, the business will likely regain its full strength. So, the market competition will be higher along with the requirements of a BPO company. BPO services will need to invest more in training their staff to achieve technical knowledge. They can never compromise on quality standards.
2- Emergence of Automation
In addition to improving quality with the available workforce, the BPO industry relies upon automated tools to provide the fastest results as a popular trend in the outsourcing industry. In fact, India's BPO industry workforce reduced by 14% in 2021. By using Robotic Process Automation (RPA), companies can handle technical back-office projects such as data entry, invoice processing, data validation, etc. more effortlessly. Such tools have become more accessible by business entrepreneurs too. Automated tools like an interactive chatbot become more familiar to consumers. As a whole, they can assist workers in a BPO company with repetitive tasks and let them focus on more creative business areas. So, the effective utilization of the available workforce becomes possible.
3- Focusing on Social Media Tools
Studies say that around 79% of the U.S. population has at least one social media account. Browsing social media has recently become the third most popular online activity. It will definitely affect consumer behavior and force companies to be more updated with their strategies digitally. In fact, social media platforms help companies in many ways. It includes providing consumer data from various sources, helping with tracking campaigns and competitor activities, grouping consumers based on certain qualities, and analyzing them with better precision. The services offered range from social media monitoring to business intelligence. As a whole, it is the most essential trend in the outsourcing industry.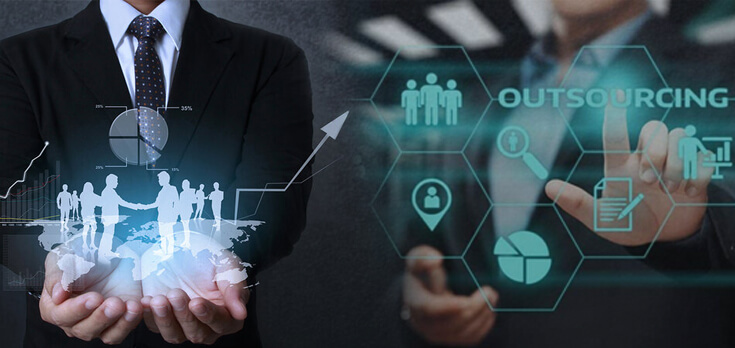 4- Cloud Computing Facilities
According to the studies of Forbes magazine, around 77% of enterprises have at least one app functioning in loud. It is an attractive trend in the outsourcing industry as it improves business collaboration with a standardized cloud system. It acts as the aptest way to increase storage capacity and help companies prevent the risk factors associated with data loss. Also, it gains relevance when unexpected events are shattering companies continuously. BPO services can provide impenetrable cloud services and ensure the best security measures with it. In addition, they can enable better access to stored data. It improves the capacity of companies to respond quickly to the market with data-driven decisions.
5- Increasing Popularity of Asian and Pacific Countries
Earlier to 2020, new competition keeps on arising in the outsourcing industry. Several countries like Belarus, Poland, Romania, and Ukraine were the tough competitors. However, this pandemic has comparatively slowed down the process. Since quality has become a major factor, the global market is shifting its trust from companies they have trusted earlier to Asian or Pacific countries. Among them, India, Malaysia, Thailand, Vietnam, etc. become favorites for BPO services. India is considered as a pool of experts and has time-zone differences. Emerging as a popular trend in the outsourcing industry, it enables them to work when companies in the U.S or Europe sleep at peace.
Conclusion
Governments in the BPO countries are focusing on losing jobs when automation tools reduce the workforce. They understand the trend in the outsourcing industry and try to educate BPO workers to improve their skill set to meet the increasing consumer demands of 2022. Influenced with the transparency in the global outsourcing policies, start-ups will also play vital roles in defining the trends in the outsourcing industry. A BPO company well updated with industry regulations and policies, BPO Data Entry Help can help you have the right outsourcing solutions. You can get it by reaching us at [email protected]