The popularity of scanning and indexing services has gained wide prominence in the healthcare industry. This was since government mandates declared that doctors, healthcare organizations, practitioners, etc. had to digitize all their medical records, which had an initial unpleasant welcome.
Healthcare service providers were finding it taxing to cope up with major time constraints then, and in maintaining healthcare/medical records, digitally. This led healthcare companies to outsource such tasks to bulk document scanning services providers, who made these cumbersome tasks all the more efficient and saved their cost, time, and resources.
Offshore outsourcing invoice scanning services or document scanning solutions are capable of processing vast amounts of patients' or other healthcare-related information, using uncompromising security practices, latest technological competence, generating accurate outputs in rapid TATs, and with the best of cost-savings.
Should Bulk Document Scanning Services be Outsourced?
Patient or medical record scanning and indexing processes when outsourced to an accomplished or proficient document scanning company, can efficiently preserve and systematize various medical records of healthcare organizations for perfectly structured medical records/documents. This also facilitates easy access to patient summaries in chronological orders, with instantaneous access to various medical records or other source documents.
A highly capable outsourcing services provider's assistance will be quintessential to your organization for managing all your patient medical records most efficiently. Document archiving becomes effortless, and the same can be said about how it facilitates quick and easy information access, and retrieval with its space-saving nature, security backing, compliance to legal norms and regulations, along with disaster recovery protocols. Even medical records that emphasize huge differences can be handled with ease by outsourcing bulk document scanning services.
Although the effectiveness of patient medical document scanning solutions will only be complete if the indexing system is highly clear and concise. A well-organized document indexing system will always ensure your organization with a great focus on your core capabilities – which is quality patient care.
Why Document Management Solutions?
The failure in maintaining proper patient records is cases of unacceptable medical negligence which might even lead to unfortunate fatalities, due to wrong diagnoses or prescriptions. The mandated healthcare law in effect by governments has to be without a doubt adhered to. Whereas accurate and up-to-date medical records that are scanned and indexed correctly saves money, eliminates errors, and frees your in-house employees with smooth processes. Offshore Outsourcing service providers have immense human resources who are highly experienced healthcare domain experts who are aided by the best of breed technology.
How Document Indexing is Done?
With the processing of document indexing, you can associate or tag patient or medical documents with different or specific search terms, defined by the organization's preferred criteria or standards. When indexing documents with such search terms, phrases or identifiers, the access and retrieval of specific information from the document becomes truly effortless. The process is also integrated into invoice scanning services. Successful implementation of document management has to depend upon a proficient document indexing setup.
The elimination of conventional manual methods in file or information search frenzies will be replaced by a more expedite the digital process with insightful access to files and information search. This will be reflected from a healthcare organization's new availability of more core focus, and in-house productivity, and time. Processed data becomes precise that has a high positive impact in the turnkey decision-making process, which will no more jeopardize patient safety due to improper indexing. The indexing process done by a document scanning company after scanning crucial documents will index healthcare documents of patients by their name, ID number, date of birth, and other crucial data for efficient retrieval of patient data.
The Benefits of Document Scanning and Indexing Services
A streamlined document indexing process will help healthcare organizations to prescribe proper medications to patients through effective diagnoses that ultimately enrich patient care. This can be in the form of better interaction between patients and clinicians with reliable prescribing. It can also improve healthcare providers' workflow and internal employee co-ordination for the right decisions to be made, enhancing the level of productivity.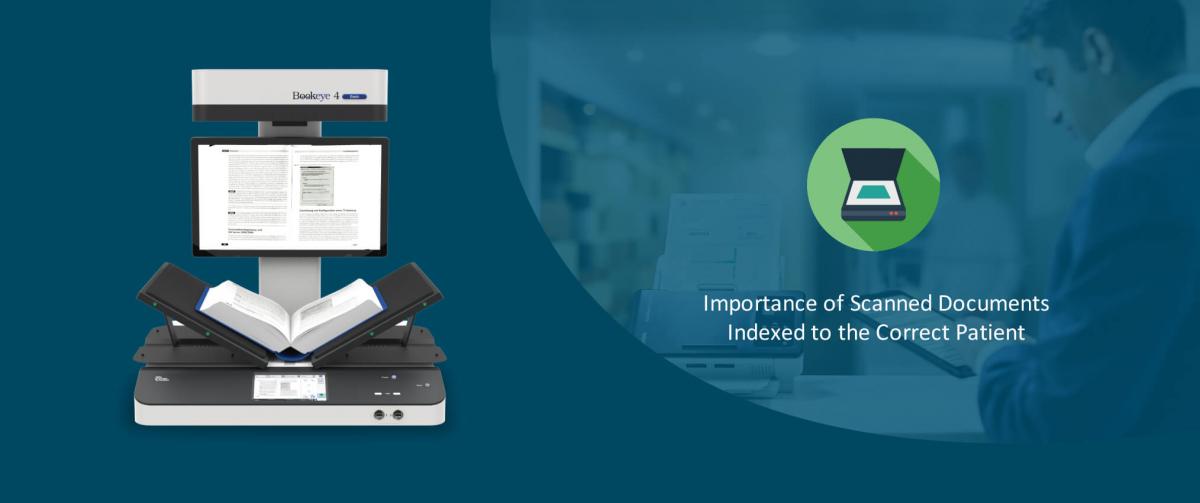 Precision and Data Security
Clinical data of patients can be easily mined by offshore outsourcing medical document reviewers impressively, even from physical paper documents. The integrated quality control (QC) procedures in document scanning and indexing services and invoice scanning services will always uphold the highest order of precision and quality. The consistency in the outputs come from the intricate technology used by domain-acclaimed and expert personnel. The data security and confidentiality measures practiced by a document scanning company will be stringent that can take care of major cyber-threats in every way. This can be very beneficial in safeguarding valuable patient information and in recovering lost medical records or data of any sort.
Scalability
The scalability options offered in these offshore outsourcing solutions are endless, capable of handling any figures to meet urgent requirements or record surges. Healthcare organizations will have huge benefits in terms of minimal overheads, and uninterrupted workflows when outsourcing.
Should you Go for Document Scanning and Indexing Services?
A competent medical record management service provider will enhance your document management capability through proper scanning and indexing while adhering to all the regulatory compliance. The unfavorable results while carrying out this process within your organization are long gone when you outsource it to a proficient service provider. The high costs of maintaining piled-up paper-based document costs will not be in existence, but a more cost-efficient digital counterpart of the same. You will not be dreaded by awful time constraints, accuracy factors, and other overheads, anymore, are accelerating patient care, but also improve the quality of care.
While a specialist organization handles your non-core functions, they can clear you off all the hassles you have faced before by giving you a breather to carry out the things you are good at – taking care of patients. You will able to save a lot of money that was expended to no purpose. Now processing and audits of all your medical information can be done within seconds, in an error-free manner, and accordance with government regulations. Your outsourcing partner will understand and help you develop a streamlined process that caters to all your specified requirements. They also have efficient steps to ensure all your documents stay in excellent order in terms of compliance and other factors in a routine manner and are the best way to get the highest quality returns at a lower price.
Your bottom line will see a radical improvement by outsourcing medical scanning and indexing services with more success metrics following your organization that enable you to render proper and enhanced healthcare solutions, to offer your patients, better value.