Data entry has become one of the most crucial business processes in all industries. Outsourcing data entry services has become inevitable because of the high competition and the need for cost-cutting to sustain in a highly competitive market. Offshore data services come with their own advantages on various aspects such as:
Move your focus from Cost to Profit Centers
One of the most important aspects of any business to become success-driven is to start moving their focus from the cost-centers to the profit-centers. The data entry, back-office, and all secondary processes are cost-centers in a business. In fact, all non-core activities are cost-centers. When the management is able to concentrate more on the profit centers, they can concentrate on the core business processes and drive the business to success. The non-core activities are best outsourced to competent outsourcing partners for efficient completion.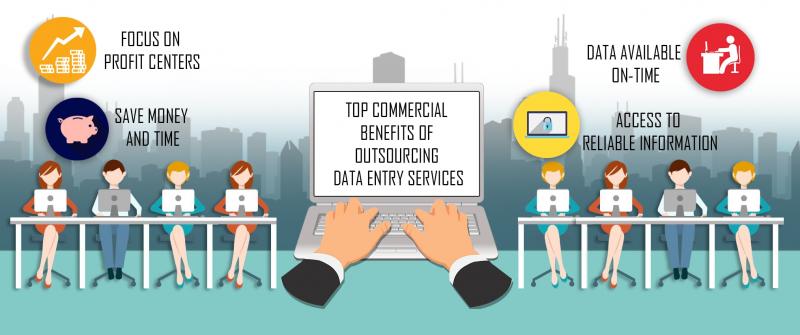 Save Money and Time
Outsourcing lets the parent company save considerable money, time and effort which they can use on business development. The BPO Company that undertakes the data entry outsourcing will have ample resources, infrastructure, and technology they can put to use conveniently to complete data entry efficiently. This saves the parent company from having to spend money, time and effort on recruitment and capital investment on additional office space, workstations and software for data entry.
Data Available On-time
Another important advantage of outsourcing data entry is that you get data when you want. Since data entry is the core competency of the offshore outsourcing partner, they will employ ample resources well-trained in the technology required to complete the work on-time. When the experts are at work, they make fewer mistakes and the work gets done faster and more efficiently. When you outsource your data entry jobs, you are assigning the process to the experts for whom data entry is the core business process. This ensures that data entry is completed on time.
Access to Reliable Information
Information has to be reliable if you want to use it for analytics and other decision-making processes. Offshore data entry Services ensures complete access to reliable information as they pass the entered data through a rigid quality process and cleanses the information before submitting it to the parent company. This ensures access to reliable information to the parent company.
Data-driven decisions
When you have complete access to reliable and wholesome information, you can take data-driven decisions that are comparatively risk-free. When you have ample information about the market, your financial position, and the competitors, you can take informed decisions wherein you can also account for the risk elements. When you know the potential issues when you take a decision, you can simultaneously think of the possible solutions too as you roll-out the decisions. Alternatively, you can also scheme a plan B to fall back on.
Data entry provides your business ample scope for development through reliable, complete and accurate information that's made available in the most cost and time effective way. It lets you take informed management decisions that drive your business to success. Success-driven businesses manage to sustain tough market competitions intelligently.