It is very difficult to maintain all aspects of a business by an organization internally. Some of the data entry processes are temporary in nature for the organization and cannot appoint employee permanently. Some of the data process needs expertise hand. So keeping this in mind, most organizations hand over their data entry job to the outsourcing company. The outsourcing job itself has become now one of the biggest industries. Definitely, every industry has its own advantages and disadvantages. Here we will discuss the same: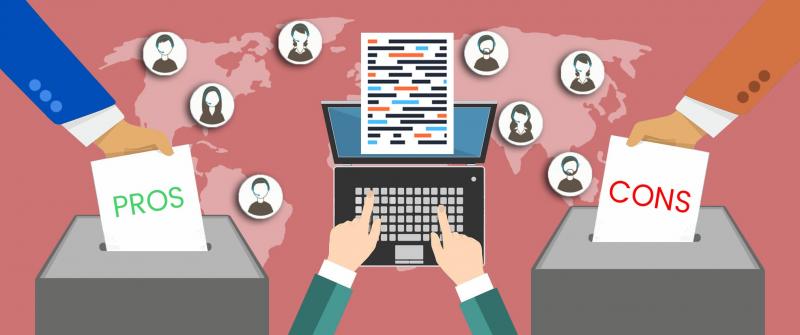 Advantages of Outsourcing
By outsourcing the non-core processes of a business, you get enough time and effort to concentrate on the core business. Instead of using the available resources on data entry and call centres, with BPO outsourcing, the businesses can easily concentrate on business development.
By outsourcing data entry to an offshore company, you can easily save 30% to 40% of the cost. Because of this, you can easily sell your products and services to your clients in a competitive rate. You can easily become the market leader.
Outsourcing of data entry helps to reduce overhead expenses like salaries, infrastructure, and other expenses for your office staff.
By outsourcing, you give the job to a data entry company expertise, which will be delivered in an efficient and professional way. This data will minimize your risk factor.
Outsourcing reduces the workload of the employees which will increase their productivity. They can concentrate on their job. This will enhance the company's productivity and growth.
Disadvantages of Outsourcing
There's risk of information security when you outsource to incompetent third parties.
Lack of understanding of the data can create wrong outputs. The factual error of data is also possible. Without proper navigation, data can be misleading. They may be dealing with lots of clients which can reduce the work quality also.
The Outsourcing partners may require training for serving exact data. If correction is needed, it may take time.
Correction and reassigning of the job may cost you more. Asking outsourcing companies for more supporting data will require you to pay more. And to get premium quality data you may have to pay even more.
Because outsourcing company deal with lots of clients they may not be well-versed with all verticals of a business. This can create another issue. To meet the deadline in a hurry, they miss some data. Because it goes through many departments it can cause missing of entries.
You can easily outsource data entry service for the development of business. Before you appoint you to need to check these points:
Outsourcing company's experience
Whether they deal all processes
Whether they have ample resources
Whether they deal professionally with their exciting clients
Whether they provide service and corrections
Their rates also if it very low means you may need to suffer later. It is better to go with competitive rates and get a professional for the job.
If possible, ask for a trail period and later if you are happy to carry on.