Insurance claim processing service is the first step to claim insurance. Insurance claim processing has been on a rise because of the growing demands in the insurance sector.
Claim settlement is an important aspect of an insurance policy. The health insurance, financial, home, medical, or dental insurance processing begins with a notification of a claim.
Underwriting – the next step involved in insurance claim processing. It will assess and evaluate the risk and then decide, how much to charge for the policy. Usually, insurance agents or insurance companies implement the underwriting process.
Insurance Claim Processing Services
Insurance claim processing services are required to ensure that you get paid quickly and in the right amount. This service offers you the ability to access documents remotely and securely. Due to the advancement of technology, this type of service ensures that there is no need for you to visit an office physically since it allows remote access to documents.
The insurance claim processing process is risk management that prevents the loss of human life. It's like an investment in yourself and your family, as well as your business. Every insurance plan should include at least one or two employees to take care of things like billing and collections. You can opt for hiring an insurance claim processing company to manage various services such as:
Health insurance claim process
Financial claim processing
Dental insurance claim processing
Medical insurance claim process
Documents are easy to access remotely and securely.
One of the benefits of using an outsourcing service is that it's easy to access customer data remotely and securely. Insurance claim processing companies store the data in the cloud. Because of an internet connection and the correct login details, you can access it from anywhere. Outsourcing insurance claim processing is relevant because of its protective advantage.
Data encryption is implemented because it boosts privacy. Data anonymization prevents leakage to external parties or to people who don't have access. Your company will be safe from any kind of potential breach of personal data protection regulations.
ERP ensures efficient coordination with the client.
Generally, insurance claim processing companies utilize the ERP solution. This can effectively manage health, financial, dental, and medical insurance claim processing strategies.
ERP software is an ideal solution for those who want to outsource their insurance claim processing services. ERP makes it easier to handle claims, as it offers a single platform. Various departments of an organization use ERP to share data and enable better coordination with clients. 
Insurance claim processing companies use ERP software to reduce data security risks. This is because you can access all the documents remotely via cloud computing technologies. Additionally, ERP software can also help reduce data security risks and provide secure access to all documents remotely through cloud computing technology, making it very convenient for employees.
Outsourcing insurance claim processing will enable you to get efficient results with fewer errors. The claim processing experts know what they are looking for in the documents.
Increase productivity and reduce the risk of fraud.
Outsourcing an insurance claim processing service will help you to reduce the amount of time and manpower required to process claims. This also helps in reducing the risk of fraud, which is a major concern among insurance companies. Outsourced services help to increase productivity and efficiency while reducing risk.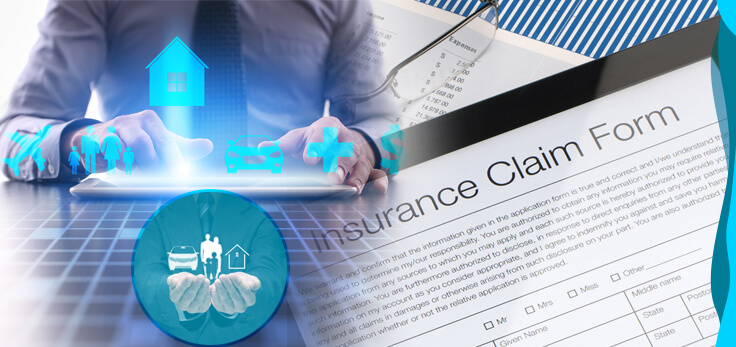 Increasing quality control, accuracy, and speed of claims processing.
Claims processing is the most important function for any insurance company. Because it is a repetitive task, it can be easily automated. This will determine how fast an insurer can settle claims and payout to policyholders.
Outsourcing claim processing services can help you streamline your claim processes while also achieving operational excellence, which will help you in enhancing customer satisfaction and retention as well as bringing down costs. Outsourcing companies are experts in their field of work and have years of experience working with insurers across different countries, providing them with accurate and error-free claims data in a short amount of time that'll help insurers increase their efficiency.
Insurance claim processing has become more efficient with changes in technology
Insurance claims processing has become more efficient with changes in technology. In the old days, you would have to fill out a lot of forms. You needed to provide plenty of evidence and send all the documents in the mail to your insurance provider. The whole process could take months for you to get any kind of payment or compensation from your insurance company.
Today, one can witness a lot of major improvements in technology and computing systems. Insurance claim processing companies implement these technologies and produce the results shortly.
It is important for insurance companies to ensure maximum productivity without compromising on quality. The best way for insurance companies to do this is by hiring third-party services that specialize in claim processing services such as BPO Data Entry Help.
To know more, contact us at [email protected]