Data conversion for businesses is something you cannot avoid. Businesses generate large volumes of information on a daily basis. Some of these are physical documents such as invoices and contracts and some others may be digital such as enquiries and orders. They may be stored in different formats and when you need to consolidate the information for better business insights you have to convert them into a single feasible format. Outsourcing offshore data conversion services providers ensure that your varied information is made available in a single, feasible format without quality compromises on time. Data conversion is done using technology and human resources who are competent in data management and have industry experience. These assure data quality. If you are still not convinced, here are 5 reasons you need data conversion services for your company: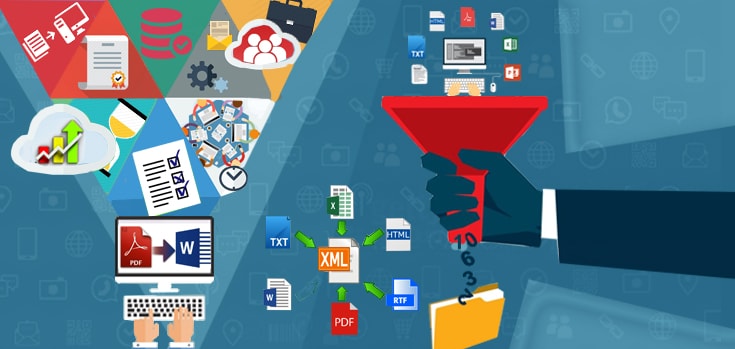 Digital Data
Every business is in dire need of digital data. It provides them quicker access to the information they have generated and stored. Most of the businesses are still paper-dependent for their document management. This can be changed into digital data with the help of a competent BPO Company India. Data conversions into specific formats that are acceptable to the majority of the business requirements make it useful. This needs the use of special technology and people who are competent in converting physical documents into digital without compromising on the quality of content.
Organized Data
Organized data is more useful for various analytics and comparisons. When data is stored as images or plain text, searching for specific information becomes very complicated. When you have large volumes of data to scan through, it becomes even more difficult to extract specific information from the bulk data repository. Organized storage of data as in databases and spreadsheets offer quicker access to information. Moreover, databases support data types which make search and computations more efficient.
Identifiable Data (In the same format)
As far as the users are concerned, identifiable or familiar data makes more sense to them. If the resources are used to using excel for reporting, it is better to have the information available in excel rather than an image. Since businesses deal with different types of data including images and text documents, bringing it all under a single format will make it more familiar to the employees which make it easier to correlate. When you outsource data conversion, they can make sure that the different types of information are made available in a single format as per the business requirements.
Data that can be compiled and compared
When the information coming from diverse sources need to be compiled and compared, it becomes imperative to ensure that they follow a similar format and unit. Data conversion services ensure this aspect and ensure that the data available with the business can be compiled and compared to aid critical management decisions.
Reliable Data
Reliability of information cannot be compromised, especially when it is used as a base for critical business decisions. When you compare information that's available in different forms or converting without using the right technology the quality and reliability of information may be compromised. A competent data conversion company will be able to provide quality output that's can be relied upon to base critical decisions.